Consumer behavior continues to evolve as a result of COVID-19 lockdowns and social distancing practices, with brands relying more and more on digital platforms to communicate and do business with their customers. In fact, according to research by McKinsey, e-commerce in the U.S. has had the equivalent of 10 years growth in a three-month timespan. That's a huge, unprecedented jump.
To say that this will have an impact on the upcoming 2020 holiday season is an understatement. The next two months will look nothing like the shopping seasons of years past, from both a retail and marketing standpoint. What technologies and tactics will marketers need to adopt this year to best optimize their holiday strategy? 
Meeting Consumers Where They Are
Some companies have already implemented major changes. For example, instead of luring shoppers into stores with promises of blowout holiday sales, retail giants such as Walmart, Target, Sears, and Best Buy have opted to put their best deals online. They will close their physical stores on Thanksgiving day and launch online holiday sales earlier than usual (some have already started).
Many brands are utilizing digital marketing tactics and mediums to kick off Black Friday and holiday sales much earlier this year.
Email Marketing is a Must
Americans say they're most likely to buy from brands whose holiday ads explain how they're keeping customers safe and/or provide gift ideas. Direct-to-consumer tactics like email marketing can achieve both of these objectives. We already saw how effective the former was at the start of the pandemic, with brands delicately combining promotional information with news and updates about their COVID-19 safety measures.
The vast majority of Americans have much less money to spend and are being especially frugal when it comes to purchasing non-essential items such as gifts. The most savvy marketing teams will create a strategy that empathizes with the restrictions of the average 2020 holiday shopper.
Leveraging Data for Personalization
In addition to spending less money this holiday season, consumers will be more discerning about what they buy and more willing to spend time seeking out the best deals. This gives marketers greater opportunity to influence holiday shoppers' purchase decisions, especially if they utilize customer data insights to create a contextual marketing strategy. 
Contextual marketing allows brands to personalize the online content a consumer sees based on their shopping history and other recorded preferences. Essentially, it enables businesses to offer the right product to the right person at the right time for the right price—a tactic bound to appeal to holiday shoppers in 2020. The more aligned a brand's suggestions are with a customer's individual needs, the more likely that customer will hit the "Buy Now" button.
In-App Mobile Marketing & ASO
If your brand has not yet considered partnering with an interactive in-app platform to reach shoppers, now's the time to do it. There's been an 25% jump in eCommerce app installs during the pandemic, a trend that's likely to continue well into 2021.
And with the biggest shopping weekend of the year just around the corner, marketers must align their app store optimization (ASO) strategy with the 2020 holiday season if they hope to convert users and keep up with competitors.
Keywords like "Black Friday" and "Cyber Monday" are essential for shopping apps and should be targeted wherever possible. This does not have to be a difficult task. Simply changing a title from "Shopping Deals & Steals" to "Black Friday Deals & Steals," for example, will help target the keyword and attract holiday shoppers searching for apps with Black Friday sales.
2020 Holiday Marketing Strategy Bottom Line
In an unpredictable year filled with uncertainly, one thing's for sure—this holiday season will be like no other. Because the majority of holiday buying will be done online, brands must put most of their advertising efforts into direct-to-consumer digital strategies such as email, in-app, and contextual marketing.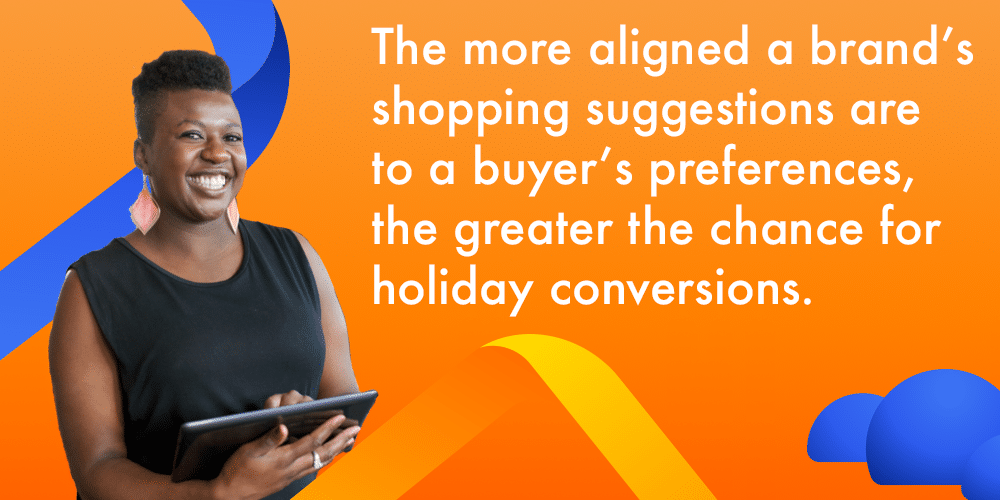 But it's not enough to simply have an online presence—in order get the attention of hesitant and frugal shoppers, content will need to be personalized and data-driven. The more aligned a brand's shopping suggestions are to a buyer's preferences, the greater the chance for holiday conversions. 
Digital challenge? We've got a solution. Contact us today and let's get started.​
Choose from our service lines and submit the form, then we'll get in touch to explore how Theorem can help grow your digital revenue.