There is no denying that digital marketing automation is here to stay. We've discussed how it's become a vital tool for large and small brands alike in the new, ever changing marketing landscape shaped by the COVID-19 crisis. Driven by the growing need for hyper-responsive, direct-to-consumer communications, smart marketers are seizing the opportunities provided by modern technologies. While service providers continue to develop new automation tools that are affordable and accessible.
But what about automation as it relates to creative design? Is creative automation a real thing? Historically, creative teams have been hesitant to embrace the technology out of fear it may cost them their jobs.
When in reality, that couldn't be further from the truth.
Creative automation is already happening for many teams.
Implemented properly, marketing automation systems can enhance creative design impact. By taking on the monotonous tasks once assigned to overworked creatives, creative automation tools free up time for strategy development, design brainstorming, and other human-centric pursuits. They also streamline workflow, improve communication, and strengthen collaboration across teams.
Information Overload Upsets the Brain
The effects of information overload on the human brain have been documented at length. Most notably by Daniel Levitin, an award-winning neuroscientist, cognitive psychologist, and foremost researcher on the subject. 
According to Levitin, our brains are still hardwired for hunter-gatherer times, when information was scarce and slow. Back then, we had to be hyper-focused on just one or two pieces of information at a time. Essentially because those insights likely meant the difference between life and death (i.e. is a lion about to eat me? Is that a deadly tarpit up ahead?).
While we obviously don't have as daunting concerns today, Levitin argues that our brains are still not equipped to process an onslaught of information without experiencing temporary cognitive dysfunction. And studies have shown that the act of multitasking produces two stress hormones—cortisol and adrenaline—that can overstimulate your brain and fog your thinking. As desirable of a skill as it may sometimes be, constantly switching back and forth between multiple tasks can exhaust the mind and drain its creative juices.
Which brings us back to the busy world of the modern creative design team.
When required to devote a significant portion of mental bandwidth to uninspiring tasks that could just as easily be automated (think image resizing, template creation, and the like), the full impact of their creative talents are at risk of being compromised. But lift those burdens off a design team's shoulders, with creative design automation tools, and there's no telling how far they can go.
Boosting Productivity With Creative Design Automation
Of course, when we use the term "creative automation," we've not suggesting turning the actual processes of art and digital design over to computers. Smart creative design requires deeply imaginative skills that are highly nuanced and inherently human. They could never be recreated by technology, no matter how sophisticated the software.
But what creative design automation can do is take over the time-consuming admin tasks and minor design jobs that burden most in-demand design teams, including:
Significant time and effort used to be required to create high-quality mockups that were accurate and effective. However, this is no longer the case thanks to online generators such as Mckups.com, Smartmockups, and Placeit.net. Creative teams can also use Batch Automation or a Smart Object Replacement Script in Photoshop to speed up repetitive mockup-making tasks such as image editing.
Design Sharing & Presentations:
Invision is another great tool for quick mockup creation. We mention it here because it also gives designers the opportunity to share and present their mockups across teams quickly and efficiently.  Similar programs include Piktochart.com, genial.ly, Emaze, and Slidebean. All of which exemplify a creative design automation tool that simplifies the collaboration process.
Shepherding design content from conception to final execution can steal hours from a designer's day. But this no longer needs be thanks to creative automation software like Filestage, Quickreviewer.com, Aproove, and GoVisually. These programs streamline the development and approval process across multiple teams and departments, eliminating the unnecessary back-and-forth that can slow workflows to a crawl.
Mundane jobs such as batching editing, file resizing, and image retouching are essential to creative design. But they're also repetitive and time-consuming. Enter digital asset management software (DAM), which allow users to automate these types of manual tasks. With a full spectrum of DAMs available, from Google Drive and Dropbox to Smartsheet and Monday.com, there is a DAM solution for every team.
In addition to freeing up a designer's time, DAMs and other creative design automation tools like Adobe Experience Manager and Adobe Bridge reduce the risk of inadvertent errors being made as a result of the monotony of the work. 
Teamwork Makes the Dream Work Even Better With Automation
Automating specific tasks can also strengthen the collaborative creative design process. Management applications like Smartsheet and Trello not only organize workflows—they also improve connectivity between teams, which means less creative energy wasted as a result of misinformation or miscommunication.
Tools such as Zapier and Integromat further enhance this connectivity by interlinking applications. Thus allowing users to create automated actions across a wide range of platforms without having to write any code. This type of creative automation includes team chat workflows such as Microsoft Teams and Slack, which are helpful in promoting time-efficient remote collaboration techniques like asynchronous brainstorming.
And what about communication between creative and client-facing marketing teams?
How can that be included in the creative design automation process?
Vague, incomplete, and otherwise poorly written creative briefs can make it difficult for designers to deliver assets that align with intended marketing strategies. 
In fact, according to the
2020 In-House Creative Management Report
, 46% of creatives say they do not get enough information from creative briefs to start a project, and 72% say that dealing with inadequate briefs is the task that takes the most time away from their creative work. And when all is said and done, a whooping 79% of creatives say that they rarely or never receive feedback on the performance of their creative assets.
Automating the briefing process with a program like Simple can solve all of these problems. Briefing standards can be established with templates, ensuring campaign expectations are aligned at project kick-off and writers and designers have the information they need to create on-target assets.
Lastly, marketing automation (MA) software can be an excellent tool for boosting creative motivation. Designed to accelerate a company's marketing efforts across different mediums, MA programs like Hubspot and Salesforce help marketers capture leads and move them further down the funnel. They also analyze lead behavior and more accurately predict the ROI of proposed campaigns, which lets creative teams know that they are focusing their efforts on projects that are likely to be successful.
"When teams understand that automation has greatly reduced the likelihood their hard work will be met with lackluster campaign results, morale goes up. Creative energy well spent behaves like an accelerant that fuels future initiatives." 
The Future of Creative Automation
No machine or software program is capable of understanding the complex spectrum of strategy and human emotion that underlies the creative design process. But that doesn't mean there isn't room for creative automation in the world of digital design. 
Rather than take over the fundamental components of the job, creative automation can liberate design teams from the routine tasks that steal their focus away from being creative. The more the tools, like the ones mentioned above, are incorporated into a team's daily workflow, the easier it will be for them to deliver the compelling and imaginative design work that only human beings can create.
Digital challenge? We've got a solution. Contact us today and let's get started.​
Choose from our service lines and submit the form, then we'll get in touch to explore how Theorem can help grow your digital revenue.
From the early days of static banner ads to recent innovations like playables and kinetic emails, creative design in digital marketing has come a long way. Advertisers have had to adapt their strategies to align with fast-changing trends. From the rise of email marketing and search engine optimization to consumers' growing ability to interact with brands via personalization, automation, and of course, social media.
Most recently, the COVID-19 crisis has significantly impacted creative design strategy and continues to transform the industry at an accelerated pace. In order to capture the attention of today's over-engaged and tech-savvy consumers, creative teams must continue to break boundaries. Utilizing bold visual elements and data-driven interactive design.
All it takes is a quick look back at some early online marketing to see how much creative design strategy has changed over the past 25 years. Take, for example, the banner ad. While people may go out of their way to avoid clicking on them today, this was not the case back in the mid 1990s.
To the contrary, when AT&T ran one of the first clickable campaigns on HotWired.com, the then-official website for Wired magazine, a groundbreaking creative design strategy was born.
While the visuals were simple (and meant to mimic what readers were used to at the time—ads on print magazine pages), the strategy was novel: entice online readers to take an immediate action with an attention-grabbing, curiosity-piquing question (in a rainbow font, no less).
The campaign was a breakthrough success. Proving that online readers were willing to leave a piece of editorial content to check out an ad—if it was eye-catching and engaging enough. The creative design concept took off, and web design became more sophisticated. As a result, the stationary graphics (and questionable font choices) of early banner ads evolved into visually compelling images and attention-grabbing animation.
Customized & Shareable Content
In the mid-to-late aughts, as social media platforms started to emerge and consumers became more comfortable making purchases online. Brands began developing creative design strategies that used personalized visual content to attract consumers. A great example of this is OfficeMax's ElfYourself.com campaign, which was unleashed online for the 2006 holiday season
The website allowed people to create quirky holiday e-greetings by uploading cropped photos of their faces (or the faces of their friends) to be superimposed over pictures (and later, videos) of dancing elves. In addition to leveraging and renewing interest in the e-card platform, which had become fairly uninspired, the cards could be shared easily on social platforms. As a new trendy concept at the time, this helped to build brand awareness and drive engagement even further.
In short, this innovative creative design campaign was a slam dunk for OfficeMax. Driving consumers to the site at an impressive 200 hits per second soon after launch. This level of engagement was especially impressive for an office supply store during the holidays. Unheard of for a retail outlet shoppers rarely turn to when looking for Christmas gifts.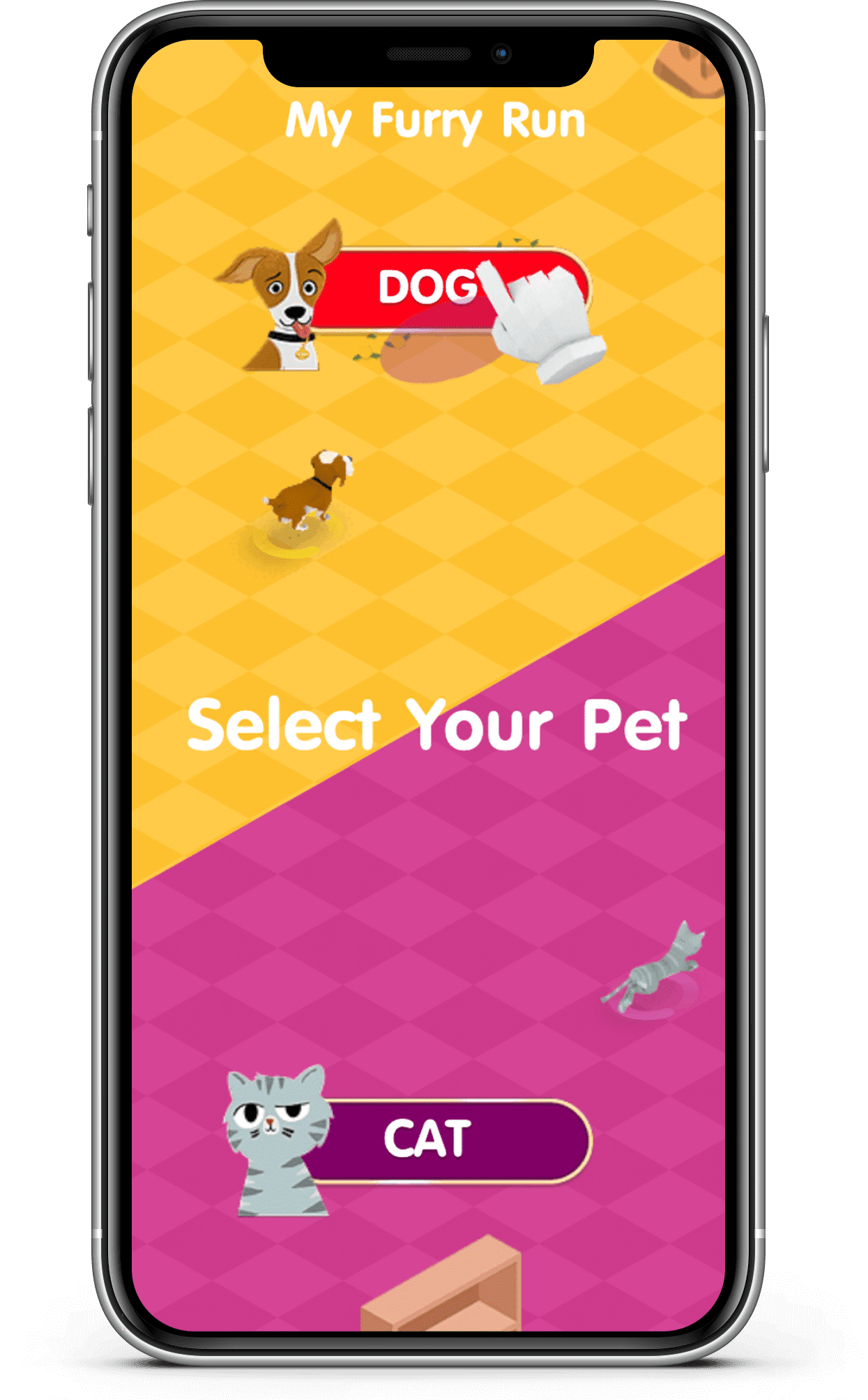 With so many consumers now relying on their smartphones for everything from banking and dating to grocery shopping and booking hair appointments, mobile apps have become a prime marketing channel for innovative creatives.
In-app marketing strategies such as playable ads combine interactive visuals with basic mobile gestures (swipe, flip, tap, etc.). All in an effort to draw consumers in with the promise of a fun, gamified experience. Some playables also incorporate content-rich creative design elements such as video trailers, sweepstakes, and coupons.
Thanks to HTML5, downloading is not required to interact with a playable ad. Meaning the engagement is instant and requires no commitment. Plus, the process as a whole is fluid and seamless. After engaging with a playable ad, consumers can take action by making a purchase or downloading a coupon.  Then return to their original media with ease.
Connecting with Kinetic Emails
Kinetic emails are similar to playables in that they use creative design elements to engage readers in fun and immersive ad experiences. Essentially, they're like a website embedded in an email.  Allowing readers to interact with a brand's content without having to click away and commit to visiting the website themselves. 
Studies have shown that adding interactive content to emails increases click-to-open rates by 73%.  So it's no wonder kinetic email marketing has taken off. Engaging, contemporary design elements such as sliders, GIFs, and collapsible menus get—and keep—a reader's attention. Which is essential in an age when consumers are forced to sift through inboxes stuffed with new emails each and every day.
The Future Is interactive
Creative Design in the Age of Coronavirus
There's no denying the fact that the COVID-19 crisis is rapidly transforming the digital marketing landscape. When it comes to creative design specifically, the changing habits of consumers have made one thing clear. In order to effectively capture audiences, brands must continue to push the boundaries of interactivity with immersive ad experiences that are more dynamic and engaging than ever before. 
Because people are not interested in spending money on non-essential items right now. If and when they do decide to treat themselves, they're sticking with the five to 10 brands they already know and love.
Brands not in that top-of-mind spot have their work cut out for them. Building a long-term funnel to these consumers will require highly optimized content and creative design that promotes engagement in the places they spend the majority of their time.
Take TreSensa's in-app playable ads, for example. In addition to capturing attention with an interactive, gamified experience, their game schematics capture pragmatic consumer information while the user is engaged in play.  This valuable data—which brands would not be able to obtain through simple display—can then be used to create additional ad content. Content that's even more dynamic and engaging because it's specifically tailored to the user's preferences. 
Why Fallbacks Are Now a Necessity
Lastly, if the future of creative design is interactive, each and every interactive element must have a fallback in order for it to be successful. Because as important as it is to push the boundaries of customer engagement and take advantage of all that new and emerging technology has to offer, it can backfire if it's not done responsibly.
You can't entice audiences with an exciting and interactive ad experience that only some users will be able to enjoy. It is important to take platform limitations and security firewalls into account. Accounting for possible issues during the design process will all but eliminate the probability of users being frustrated with your brand due to rendering issues.
Whatever channel you're using, whatever type of interactive innovation you're employing, fallbacks must always be developed in creative design. With the main goal of accommodating users that lack support. As innovative and visually engaging as a kinetic email or playable ad may be, for example, it ultimately won't be effective if it doesn't account for cases where HTML and/or CSS is not supported.
Creative Design Is Constantly Evolving
We're living in a time of unprecedented change. And while a quick look back at history shows us that creative design in digital marketing has always been evolving, it's moving faster now than ever before. 
 As the digital landscape becomes more and more crowded—and as the COVID-19 crisis continues to affect consumer behavior in new and unique ways—creatives are relying more and more on visually rich digital design strategies that promote consumer engagement through interactivity.
In this series, we'll continue to explore the benefits of innovative creative design, as well as examine the many ways creative-infused marketing is changing the digital landscape.
Digital challenge? We've got a solution. Contact us today and let's get started.​
Choose from our service lines and submit the form, then we'll get in touch to explore how Theorem can help grow your digital revenue.